P-350-PR - Broly, Unknown Power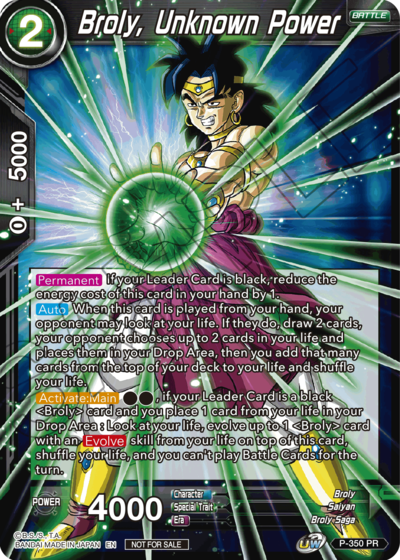 Description
Permanent
If your Leader Card is black, reduce the energy cost of this card in your hand by 1.
Auto.
When this card is played from your hand, your opponent may look at your life. If they do, draw 2 cards, your opponent chooses up to 2 cards in your life and places them in your Drop Area, then you add that many cards from the top of your deck to your life and shuffle your life.
Activation : Principale
, if your Leader Card is a black <Broly> card and you place 1 card from your life in your Drop Area : Look at your life, evolve up to 1 <Broly> card with an
Évolution
skill from your life on top of this card, shuffle your life, and you can't play Battle Cards for the turn.
Évolution du prix à l'unité