BT15-139-SR - Ultimate Minus Energy Power Ball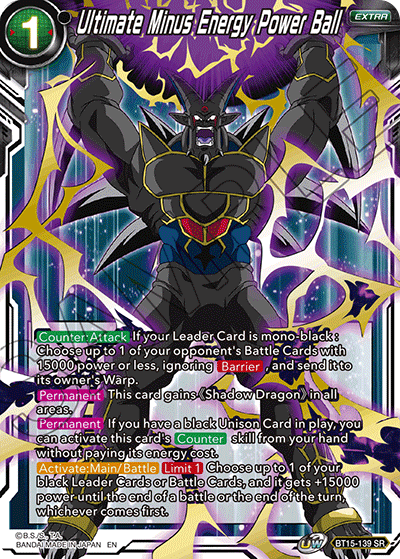 Description
Contre : Attaque
If your Leader Card is mono-black : Choose up to 1 of your opponent's Battle Cards with 15000 power or less, ignoring
Barrière
, and send it to its owner's Warp.
Permanent
This card gains «Shadow Dragon» in all areas.
Permanent
If you have a black Unison Card in play, you can activate this card's
Contre
skill from your hand without paying its energy cost.
Activation : Principale/Combat
Limite 1
Choose up to 1 of your black Leader Cards or Battle Cards, and it gets +15000 power until the end of a battle or the end of the turn, whichever comes first.
Utilités
Synergies
Autres versions
Évolution du prix à l'unité
Produits scellés
Decks de la communauté